I am trying to install a
Hotpoint HW170LIW Free Standing Gas Cooker
. The manual indicated to make the LPG connection to the left hand side. Having now cut the pipe

to fit the connection on the left-hand side
looking from the front
, I am having second thoughts about the wording in the manual. It states the following:
"
Gas connection
The cooker should be connected to the gas-supply by a corgi registered installer. During installation of this product it is essential to fit an approved gas tap to isolate the supply from the appliance for the convenience of any subsequent removal or servicing. Connection of the appliance to the gas mains or liquid gas must be carried out according to the prescribed regulation in force, and only after it is ascertained that it is adaptable to the type of gas to be used. If not, follow the instructions indicated in the paragraph headed "Adaptation to different gas types".
On some models the gas supply can be connected on the left or on the right, as necessary
; to change the connection, reverse the position of the hose holder with that of the cap and replace the gasket (supplied with the appliance).
In the case of connection to liquid gas, by tank,
use pressure regulators that conform to the regulation in force.
The gas supply must be connected to the left of the appliance.
Be sure that the hose does not pass through the rear of the cooker touching hot parts."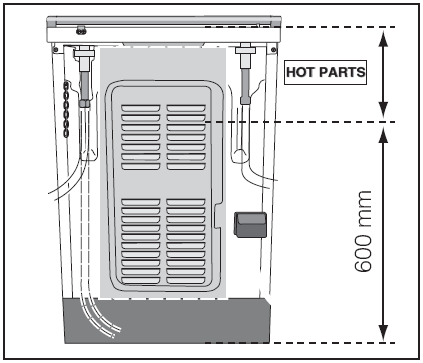 I have contacted the manufacturer but they will only offer an opinion on the wording of the manual (which they believe implies left, from the rear) rather than explain the reasoning behind the technical requirement.
1. By '
left of the appliance
', do they mean port or starboard?
2. Why does it matter for LPG, but not for other gas?
3. Has anyone else fitted a similar cooker, and which way round have you done it?
Thanks in anticipation of any advice.